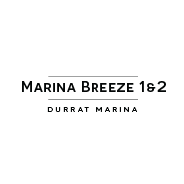 Marina Breeze
Services we offered
Brand Identity
Brochure Design
Content Writing
Company Background
An ideal place to stay in the heart of Durrat Al Bahrain, the second largest man-made island, Marina Breeze has been a green oasis for asylum seekers seeking tranquility amidst the bustling city life.
Marina Breeze was founded by Master Group, an ISO certified real estate development company, to be the crown jewel among its other projects.
Marina Breeze offers an unprecedented experience in residential life with its exterior and luxurious interiors, and the panoramic landmarks it offers.
The building consists of two towers, and includes about 82 luxury apartments between a two-bedroom unit or a three-bedroom residence and a duplex three-bedroom living room or coveted.
The shed provides a homogeneous view of nature and man's creativity.
The tower offers many services and luxury amenities such as 24/7 security. You can also enjoy a wide range of facilities at Marina Breeze, such as gyms for women and men, a large swimming pool and barbecue area. You can also enjoy the sea and have fun with your family on the beach until sunset and enjoy the best times in your life. In addition to the central air-conditioning system, parking, sauna and steam baths, this is in addition to the luxurious elevators attached to the building.