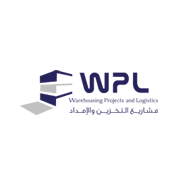 Overview
Warehousing Projects and Logistics Co. (WPL) is a logistics partner to the businesses in Saudi Arabia offering the most optimum solutions in a combination of infrastructure and services to meet the growing demands of the supply chain. WPL was formed in March 2010 through a partnership between Bandar Al Khaleej Co. and Specialties Holding (a subsidiary of Kuwait Finance House) as a limited liability company (LLC.) in the Saudi Arabia.
The aim of WPL is to be the preferred service provider in Saudi Arabia and the Gulf region for warehousing and third-party logistics services to a wide range of customers in all sectors of business.
Its infrastructure development includes around 500,000 m2 at these industrial cities and other strategic locations covering all regions of Saudi Arabia. To meet the varied demands of the industry, it offers options of leased warehouses and custom-built warehousing solutions. In its ongoing commitment to meet the logistics demands of the industry, WPL will be expanding the infrastructure into newer regions within Saudi Arabia and in the Gulf region, complimented with a range of value added services. With a team built of industry professionals backed by strong local and global partnerships, its objective is to be the preferred long-term logistics partner of the region we operate.
Project Background
Smart Touch got hold of WPL through its former client in Saudi Arabia by referral. Initially, WPL tasked Smart Touch to redesign their website and do folders design for their inserts and mini brochures. After approving the final design for the folders, Smart Touch was asked to print and have them delivered as soon as possible.
Challenges
Smart Touch was able to overcome the challenge when it comes to communication and understanding with the client. Using its powerful project management system, both Smart Touch and the client can update and follow up with the progress of each project component.