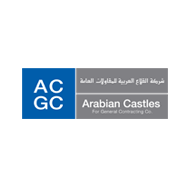 Company Background
ACGC has more than 40 years of experience in providing construction, renovation and maintenance services as well as maintenance at the military air bases in Saudi Arabia.
ACGC can offer customers innovative, customized and cost-effective solutions for projects on any scale. Projects include several types of large-scale heavy civilian structures, sheds, office buildings, housing complexes and training facilities.
ACGC's management of these projects is greatly enhanced by its engineering and construction expertise in all disciplines, including civil, structural, architecture, mechanical, heating /ventilation/air conditioning, electrical systems and communications.
The ACGC staff offers exceptional competence and expertise with a constant focus on customer satisfaction.
The organizational structure of ACGC defines two lines of business: construction, renovation, operation and maintenance. The existing lines of business of the company implement the projects obtained by the commercial department.
ACGC recognizes its direct responsibility for safety, health and environment as well as quality assurance and SHE / QA department accordingly has a direct line of transmission to the board.
ACGC's policy is to ensure the health and safety of its employees, including any other persons who may be affected by ACGC, at all times by creating and maintaining a safe and healthy working environment.
All ACGC employees are aware of their responsibility to take care of others and themselves and are obliged to cooperate with the management to achieve the ACGC goals and to avoid any negative impact on the environment.
The company seeks to be a leader in the provision of management services for renovation and maintenance and to become one of the top 10 of construction companies in Saudi Arabia. Its mission is to provide high-quality and cost-effective solutions to the highest standards in different areas covering all aspects of the project cycle.