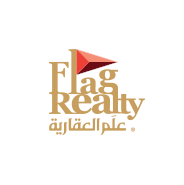 Flag Realty
Services we offered
Company Background
Flag Realty is an integrated real estate brokerage company offering high-quality services in the Saudi market. The company was established in 2014, to meet the growing demand for real estate consultancy services associated with understanding the local real estate market. Flag Realty offers a full range of services and consultations to real estate owners, real estate developers and investment companies.
Flag Realty aims to build strategic business alliances with real estate owners by offering quality real estate services and consultations. In addition to focusing on rebuilding a proven track record, leading to an increase in market share through professional competition.
Flag Realty offers many services to its clients including real estate consultancy, providing information and research on the real estate market, management of facilities and real estates. And also provides all real estate services such as rental and sale of real estate.
Flag Realty Company has been very successful in establishing a strong presence in the Saudi market despite fierce competition.