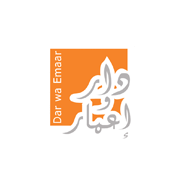 Dar wa Emaar
Services we offered
Brand Identity
Brochure Design
Company Background
With a mission to meet the needs of the market and to contribute effectively to the development and performance of the industry, Dar wa Emaar Real Estate Investment & Development Company was established in 2007 and is headquartered in Al Khobar, Saudi Arabia. The company is currently working on the establishment of nearly 600 housing units and comes at the pace of their previous projects, which is characterized by the choice of location and design and the beauty of implementation.
Dar wa Emaar aspires to provide premium real estate products that follow the highest standards of design at reasonable prices.
The company has sold many high quality residential units and is looking to continue pumping world-class real estate products into the Saudi market. Where it has so far handed over more than 1,000 housing units in both the Eastern Province and Riyadh
The company seeks to be a leader in the real estate development industry through the continuous pursuit of trust and respect for customers and employees by adhering to professional and ethical standards. And always put the customer first.
The company also aims to help realize the dream of every family in Saudi Arabia to own their own home. And the establishment of high-quality housing in every aspect of its design at affordable prices for those seeking to own a home for the first time.
The company also works as a contractor to develop residential real estate projects. Dar wa Emaar has extensive experience in real estate development. From villas to integrated residential complexes. It also builds and develops for those who wish to build a strategic partnership of development, implementation and supervision within a working mechanism agreed upon and approved.
In addition, it provides asset management where it deals with real estate development funds approved by the Capital Market Authority and includes dealing with studies and developing strategies and plans for fees of development and supervision services.